21.06.09 21:53 Age: 14 yrs

UK franchise focused law firm meets with the leading Chinese law firm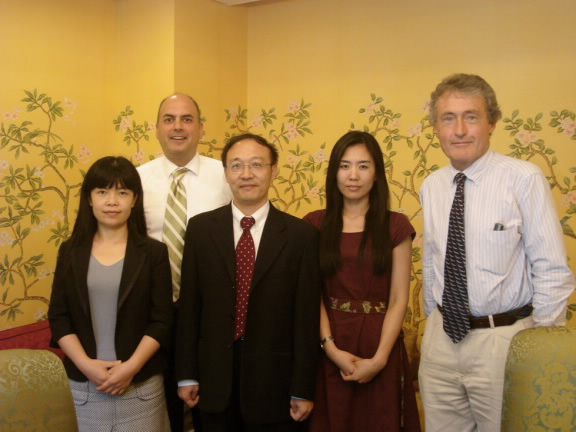 (left to right)
Sophie Tan, Edward Lehman, John Li, Lily Han, Jonathan Chadd
Jonathan Chadd, attorney from Leathes Prior visited Lehman Lee & Xu at Lehman Lee & Xu's Beijing office, June 16, 2009.
On June 16, 2009, Jonathan Chadd, the Head of the Commercial Department at one of leading UK franchise law firms Leathes Prior Solicitors visited Lehman Lee & Xu. Two parties exchanged views on the most cutting-edge information and the most key issues in franchising practices.
"For our international approach, we need a great local partner to provide reliable ground services here in China to our clients. We understand that to have things done effectively and efficiently, you should find the right person from the very first beginning. I feel that you are the one we are looking for" said Jonathan Chadd.
"I note that your firm has employment and data protection services. According to your introduction, we understand that your practice on these two areas are also franchising related which is really impressed. This kind of pinning-down strategy is really creative and we hope that we could adopt the same to improve ourselves." said Edward Lehman, the Managing Director of Lehman, Lee & Xu.
The meeting was hold in a friendly atmosphere. Both parties expressed their confidence for the future cooperation. "We are confident that with Leathes Prior's expertise in Franchising and Lehman, Lee & Xu's professionals, we could better service our clients at the most competitive cost with best services and thus further expand our global reach." said Jonathan Chadd.
Lehman, Lee & Xu, established in 1992, is at the forefront of international law practice in China. The firm has more than 200 lawyers in offices in Beijing, Shanghai, Guangzhou and Shenzhen, along with foreign branch offices in Hong Kong, Macau, Mongolia and Chicago. Over the past sixteen years, the firm has built a strong reputation in banking, foreign direct investment, mergers & acquisitions, international trade and dispute resolution. To learn more about the firm, please visit http://www.lehmanlaw.com/.
Jonathan Chadd is one of the leading UK franchise law firms and is affiliated to the British Franchise Association. For more than 25 years they have been involved in assisting clients in the expansion of their business through franchising or licensing both in the UK and internationally. To learn more about the firm, please visit http://www.leathesprior.co.uk/.
If you are interested in learning more about our service for franchising and/or other legal services, please give us a call at 86-10-8532-1919, or email us at elehman@lehmanlaw.com or mail@lehmanlaw.com, and we would be more than happy to discuss the program with you in more detail.
-Published by Lehman, Lee & Xu, June 17, 2009